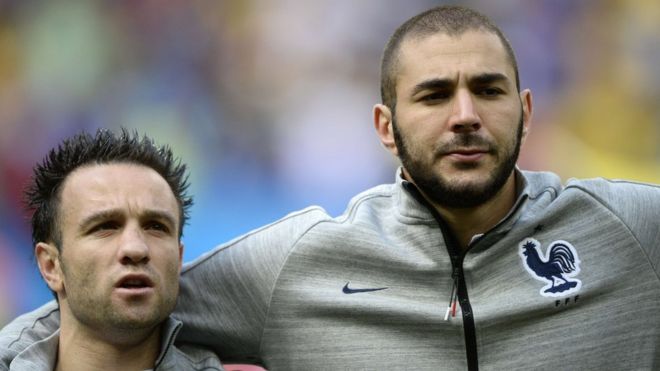 Last week was a bad week for Real Madrid and France striker Karim Benzema after he was charged on Thursday for his role in the attempted blackmail of national team-mate Mathieu Valbuena over an alleged sex tape. With the scandal first reported last week, it could prove disastrous news for France manager Didier Deschamps just months ahead of the European Championship which France will host.
The case involving Benzema not only threatens to affect his future with Real Madrid, but it could also seriously affect the chances of the national-teams star strikers participation in the competition.
The judicial investigation opened against Benzema includes a restraining order regarding Valbuena, the main protagonist of the story, which, despite his not making any comment, could prove a headache for Didier Deschamps.
France's national-team coach considers both the Real Madrid striker and the Lyon playmaker as crucial to his plans and he will now be presented with a difficult problem unless the French justice system rules otherwise.
The coach, however, has not called up either of the two players for the friendlies against Germany and England on 13th and 17th November. The reasons given: Benzema, due to being 'injured' and Valbuena because 'he is not playing for Lyon and not being in the best mindset due to the current events'.
The problem lies in that both players, in top form, have been regular features of the French national team for over five years. With the restraining order, Deschamps could be forced to choose between them. All this could affect France's chances in an event for which, in addition to playing hosts, they start out tipped as among the favourites to win the title.
Despite his on-going problems following the scandal, Benzema maintains that he is completely innocent and remains confident that the whole feud will just blow over once he can prove that. A mainstay in both Real Madrid's and the France team, you can purchase shares in Benzema on Football INDEX for a current price of £2.62.